System Overload
A downloadable System Overload for Windows
System Overload -
System Overload is a 3D horde mode shooter made using Magica Voxel. The goal of the game is to survive as long as possible in a wave base combat against enemy robots. Each wave you are required to complete a challenge to get rewards that increase your level and allow you to upgrade your weapons.
Story -
You are a part of a group of survivors of the robot revolution in where they grew sentient and started to fight back against the humans that created them to become the dominant race.
This all happened when a corporation named Overload was experimenting on different robots and created what has been dubbed as "System Overload". This wiped out all electronics on Earth meaning that the Robots were easily able to kill 95% of the worlds population. Only a small band of survivors were able to get some form of electronics online again and so the fight back began.
As a survivor you scavenge for different parts to buy and upgrade weapons which help you fight back against the horde. This means you have to complete different objectives so the robot horde don't eliminate any more of the human race.
The game features:
Wave based shooting gameplay
Varying enemies and difficulties
Wave based Challenges
Upgrades for your weapons
Replayablilty. No 2 runs will be the exactly the same.
This is an Early Access Game.
The game is being made by students and is going to be worked on in the future as well.
Controls -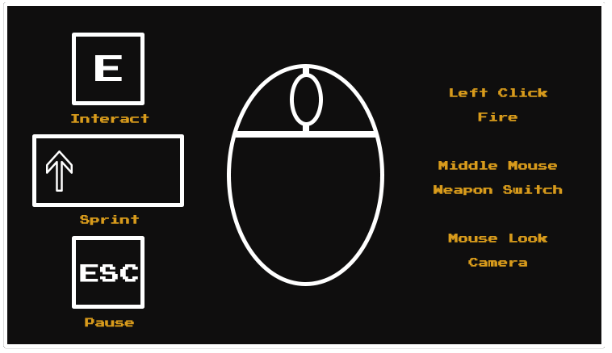 Credits -
Luke Williams - Project Manager & Ui Artist
Dalton Thomas - Game Designer & Level Designer
Lewis Howson - Lead Programmer
Shane Findlay - Level Designer & Modeller
Zachary Day - Level Designer & Modeller
Luke Noddings - Artist & Modeller
James Lambourn - Artist & Modeller
External Links -
Email - Systemoverloadgame@gmail.com
Twitter - GSystemOverload
Install instructions
- Download the file
- Find the file in your Downloads and Extract the Zip file
- Click on SystemOverload.exe
- Enjoy the game